Character Profile: Corina Crismana, Grade this please :)



Posts: 1,549
Cash: 126,717 / 475,510
Group: Nobility
Joined: 7/16/05 10:43 PM
Profile Content:
Full Character Name (s):
Corina Crismana
Character Nickname (s):
Corina, Cora, Cori.
Age / Date of Birth [If Known]:
She is 27, and was born in the Summer months of the Turn of the Century.
Class / Job:
She is the Vice Commodore, as well as the First Mate of a ship, under the Captaincy of Commodore Khufaruh.
Gender:
Female
Relatives:
Her mother and father live in Dwanay, with her older sister, Barane, and her younger brother ,Pheeli. Her grandparents live in an upstairs apartment, bedridden with arthritis and age.
Height / Weight:
She is about 5í7Ē, weighing approximately 140 pounds.
Other Physical Qualities / Appearances:
She is a rather strong woman, having done many physical tasks, such as walking across the land between the Orinal Sea, and the Mid-Orinal Ocean. She has skin that is tan with sun, and hair that, no matter how much sun bleaching it gets, always returns to itís natural color of Black. During the summer months, it is bleached almost white-blond. She has eyes that persistently switch between Green and Blue, matching to the tone of the ocean underneath her ships hull. She has high arching eyebrows, a tribute to the genes of the territory she came from, as well as the line of symbols tattooed down the back of her right shoulder, across her back and down her left leg.A tattoo of a leaf was on her left hand, on the fleshy part between her thumb and for finger. It symbolized a love of nature of the land. Itís counterpart was on her neck on her right side. It was a small water drip, right over the pulse on her throat, showing how the ocean and seas are in her veins.
Mental Qualities / Personality:
She was raised by occultists, and didnít live with her Mother and Father. Children in her culture, from the age of 5, to the age of 16 live with an older couple, usually women, and are taught the ways of the wild, how to listen to the animals, and the wind. After they are deemed knowledgeable, they are released back into there familes, to get to know them, and to live as respectable members of their society. But, before her training was finished, and she learned her final lessons, her teachers died. She was cast out, allowed to be with her family for one year, before having to leave the area, not being able to return until they personally decide they are worthy. She was properly taught how to listen, and how to perceive and intercept, but not how to keep thoughts out. Corina picks up on thoughts and whispers that she not necessarily wants to.
She is a caring person, but chooses not to show it unless she needs it to gain alliances. As a woman, she needs to remain strong in her Titleship, or she will be ousted from her High Positions.
Background / History:
She grew up in Dwanay, and was taught with the women. When they passed on, she stayed with her family for one year, 365 days. On the 365 day, at one minute to midnight, she was allowed to take as much as she could carry, and set out. She had spent the past 12 memorizing maps, the path to her destination, as well as the path home, when she was worthy. She traveled for 6 months across the land, growing lean and tall, learning what she could eat, and what would make her violently ill. She learned how to listen to the animals, and gain there trust. She could have a deer lay it's head in her arms to have it's throat slit. Corina Also learned how to make salves and poultices out of herbs and mud, and learned to weave grasses into cloth and things. She made her own ropes to sail across lakes and rivers, learning how to use treesap to seal and chink boards and logs together. In the back of her mind, she knew that she would need this skill somewhere, so she spent many a day learning how to weave sails, and make delicate peices of machinery out of wood and stone. By the time she arrived in her destination, she could build her own Clipper out of basically forest materials. It was a very important skill for her Future. She spent many years in the seaport, working in the ship kitchens and pubs around the island, taking short trips every year to renew her knowledge of what she learned when she lived in the wild.
Equipment / Clothing:
She wears a pair of old, green pants, that used to belong to her elder sister. They are useful in keeping her cooler in the hot temperatures. She has a vest, made of red dyed cotton that has buttons on it, one side flap pulled across to latch on the opposite hip, but she hardly ever wears it. Her normal shirt is a peice of blue cotton, that with a few stiches, she fashioned sleeves, and ties together under her breast. She wears soft hide boots that come up to her ankles, and fold over. They can be unrolled and tied to midcalf if need be. She wears a link of rope around her wrist that she made many years ago in the forest, that remains a link to her heritage. She also has six ear peircings in her left ear, along with a ring in her right nostril. Soft hide gloves cover hands, to keep them soft and able to weave.
Other Information:
Corina loves seagulls. She has a theory that, if the world was to end, those people on ships would be the only ones to survive, for they can float upon oceans. She believes that Seagulls will be the only animals to survive, because all the land animals would die, and all other seabirds are not as hardy. She wishes to befriend every seagull, and has been known to raise a gull chick or two.
Here is a picture that I drew and Colored.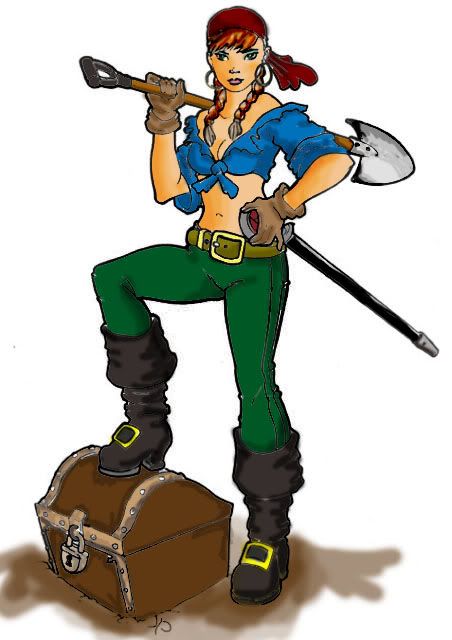 Posts: 45,875
Cash: 1,915,578 / 1,817,041,051
Group: Administrator
Joined: 7/10/02 09:48 PM



Posts: 1,549
Cash: 126,717 / 475,510
Group: Nobility
Joined: 7/16/05 10:43 PM



Posts: 11,179
Cash: 76,637 / 1,231,613
Group: Representative
Joined: 10/16/02 07:09 PM
Holistic Grades:
Length: 10/10 points
English Syntax: 5/5 points
Creativity: 5/5 points

Profile Content:
Full Character Name (s): 3/3 Points
Character Nickname (s): 2/2 Points
Age / Date of Birth [If Known]: 3/3 Points
Class / Job: 3/3 Points
Gender: 2/2 Points
Relatives: 5/5 Points
Height / Weight: 2/2 Points
Other Physical Qualities / Appearances: 15/15 Points
Mental Qualities / Personality: 11/15 Points
Background / History: 15/20 Points
Equipment / Clothing: 8/10 Points
Other Information: +1/0

Total / Final Grade: 90/100 points



Posts: 1,549
Cash: 126,717 / 475,510
Group: Nobility
Joined: 7/16/05 10:43 PM



Posts: 11,179
Cash: 76,637 / 1,231,613
Group: Representative
Joined: 10/16/02 07:09 PM